Farnborough Lions expand Message in a Bottle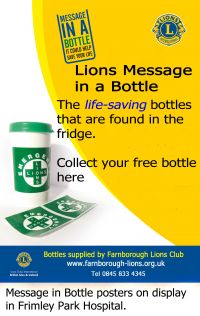 Recently Farnborough Lions re-introduced the life saving Message in a Bottle Scheme to Frimley Park Hospital. With the help of Radio Frimley Park we have promoted the scheme to distribute bottles from Outpatients, Patient Liason Services and the Discharge Lounge.
Message in a Bottle is a project which Farnborough Lions Club is extremely proud. Since the project launch in 2003 the Farnborough Lions Club has distributed approx. 7,500 Bottles. Together with other Lions Clubs in the Zone - Aldershot, Fleet, Hart, Hook & Odiham, Yateley and Sirius we have distributed approximately 15,000 bottles.

So what is Message in a Bottle?
The Lions nationwide Message in a Bottle scheme is a simple idea designed to encourage people to keep their personal and medical details at home on a standard form and in a common location - the Fridge. This is to enable emergency services to have instant access to medical information for anyone who is taken seriously ill or has had an accident at home.
So how does the scheme work?
As the name suggests, the personal information is kept in a small plastic bottle. The bottle has a push-fit lid and is big enough to hold the necessary information. The bottle is then kept in the fridge, where the emergency services will expect to look for it in the event of being called to your home. They will be alerted to your membership of the scheme by two 'green cross' labels. One is fixed to the back of the front door (or the door most used to access the premises), the second is attached to the door of the fridge. These bottles are completely free of charge.
Where can I get a bottle from?
Outside the hospital they can be collected from: your Health Centre, Doctor's Surgery and Chemists who all have supplies of the bottles and forms. If you have difficulty finding a Message in a Bottle outlet, contact Farnborough Lions through the contact page or by phoning 0845 833 4345.
For more information about Farnborough Lions activities visit our Facebook Page or phone 0845 833 4345.
Click here to contact Farnborough Lions.