Farnborough Lions Autumn 2021 Quiz Night
As we start getting back to normal after the restrictions Farnborough Lions welcomed 17 teams from across the Rushmoor and Hart areas to answer answer questions on a wide variety of topics.

With covid safety measures in place the teams enjoyed answering questions in knowledge rounds including 'Around London', 'Big Quiz of the year 2020', 'The 1960's', 'Shakesperian Quotes', 'Alcoholic Drinks' and 'The Love Quiz'.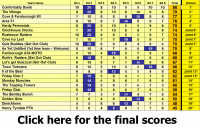 The evening included a magnificent raffle with the star prize of a laptop computer kindly donated by Fleet Lions Club.

At the end of the evening a long term Farnborough Quizzers 'Area 51' were victorious with 61 points, The Villagers second just 3 points behind and third were Yateley Lions with 56 points. For a full rundown of how the teams did, click the scoreboard on the right.
Although quieter than normal due to understandable concern over coronavirus the evening fundraiser made a magnificent £615 for Farnborough Lions charity funds. Our thanks go out to our loyal supporters.