Acornwood Pre-School Den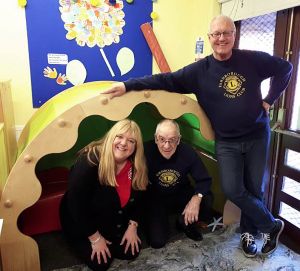 Recently Farnborough Lions presented a 'Den' to Southwood based Acornwood Pre-School as an enhancement to their role play area.
This Den was donated to enable an increased focus on the children's language development, personal, social & emotional skills.
Within a few minutes of the presentation picture being taken, the children were happily playing in the 'Den'. It was good to see first hand how we are able to help people of all ages in the community.

A few weeks after the presentation we heard that Acornwood had re-themed the Den for future Farnborough astronauts. The outside of the Den was decorated with stars and the surrounding walls adorned with pictures of planets to inspire the children's imagination even more.