MINIBUS DONATION BRINGS PRIDE TO STUDENTS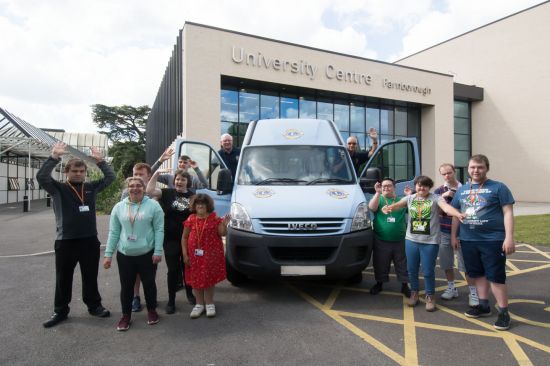 Pictured are students at Farnborough College of Technology celebrating the arrival of a minibus, funded by Lions Clubs within the Farnborough area together with parents of students at the college.
The vehicle has been donated to the College's Foundation and Entry Level department, which offers courses to those with additional learning needs, learning difficulties and/or disabilities.

The project was initiated by a parent of a student in the Foundation course at the College, who recognised that a dedicated vehicle would benefit the department. The parent, Debbie, contacted Farnborough Lions Club for their support while also raising funds herself.
As this was such a large project Farnborough Lions bought on-board the Lions Clubs in Aldershot, Fleet, Yateley, Hart and Hook and Odiham who also generously donated funds raised through their own fundraising and community events.
Programme Manager for the Foundation Studies Department, Liz Wilson, commented "The curriculum in Foundation Learning is structured around preparing young people for adulthood. It involves accessing the local community as much as possible to develop independence and employability skills. It has been great working with the Lions and having the minibus will make a big difference to the students."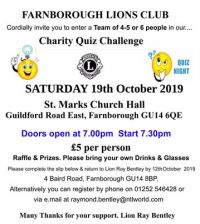 Ray Bentley, Immediate Past President of Farnborough Lions Club, commented: "We hold fundraising events throughout the year to raise money for local causes, one of which was the request to help towards the costs of a minibus for the College's Foundation Studies Department. We contacted other local Lions clubs who were only too pleased to help with the fundraising. We are extremely grateful for their support in helping us. This is an ideal example of Lions Clubs working together to benefit good causes within our local communities".
For details of Farnborough Lions October Quiz Night click the poster on the right