A Roundup of Farnborough Lions work in the community
Would you like to help the Lions in Farnborough help the community like this?
Click here to find out more about Farnborough Lions Club and how you can help us assist many families in our area who need help during these difficult times.
Would you like to help Farnborough Lions continue this valuable work in the community. Please consider donating online by clicking here: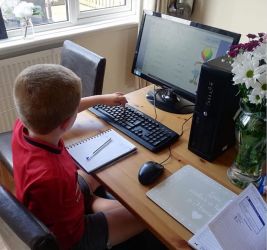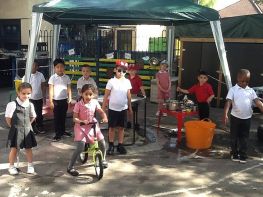 Even though the community work of Farnborough Lions Club has been severely curtailed during the current covid situation, we have been able to help local people in a variety of ways. When schools closed it quickly became apparent that many pupils in Farnborough did not have access to computers to carry out work set by their teachers as home working. The Lions Clubs in Hart and Rushmoor banded together to collect, clean and refurbish disused computers from local business, schools and local authorities. So far during the lockdown over 100 computers have been distributed to disadvantaged families in Farnborough allowing their schoolwork to continue.
That translates to a value of £15,000 in Farnborough alone. Altogether more than 600 computers, laptops and tablets have been donated throughout the area by the Lions at an overall value of £75,000. One lucky recipient is pictured above home working on his refurbished PC.
When the schools returned just before the summer break, we supplied 2 gazebos to Cherrywood School to enable them to maintain social distancing in 'bubbles'. Cherrywood pupils are pictured above back at school in the bright summer weather. These pictures are published with full parental permission.
Further examples below show Lions have helped local good causes and given much needed aide during the disastrous explosion in Lebanon.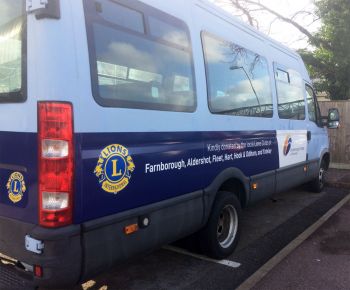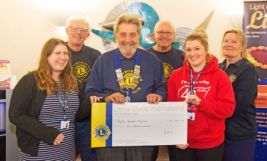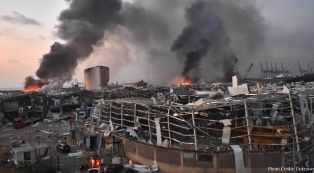 Recently Farnborough Lions Club were asked for their to purchase a minibus for the Foundation Studies Department at Farnborough College of Technology.
Recognising the need to transport their students with special needs to .travel to workplace experience locations Farnborough Lions enlisted the help of fellow Lions Clubs in Aldershot, Fleet, Hook & Odiham, Hart and Yateley. Local Lions Clubs working together to purchase the minibus has enabled this invaluable asset to benefit students with special needs throughout the area for many years to come.
Farnborough Lions regularly carry out fund raising events to help a wide variety of good causes locally, nationally and overseas. This presentation pictured above to the Phyllis Tuckwell Hospice is in fond memory of the wife of a Farnborough Lion who lost her fight with cancer while under the care of the hospice earlier this year.

Following the disastrous explosion in the heart of Beirut Lions Clubs in Lebanon went quickly to the aid of the thousands of people injured and made homeless. The Lions Clubs of the British Isles made an immediate grant of £10,000 from their disaster relief fund through the Lions Clubs International Foundation (LCIF) - the worldwide organisation supported by the 48,000 Lions Clubs throughout across the globe.To see a video and read more about the work of the Lions Clubs International Foundation click here.