Farnborough Lions Club Winter Activities Roundup
If you've wondered what community organisations such as Farnborough Lions Club do during the winter months, here is a roundup of activities we've been involved with around the Christmas period.
We started with the Lions traditional Christmas Celebration Meal when we enjoyed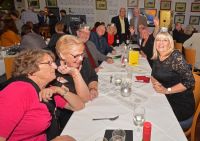 an excellent dinner at the Gallery Dining Room in Farnborough College of Technology. We were served with superb cuisine by students completing their final year hospitality assessments and WOW what a standard. The talent and attention to detail was clear from the start with a brilliant atmosphere and superb food. For more pictures an details of Farnborough Lions social activities click here to visit our social page.
Continuing our connection with local colleges and students, in mid December we helped Farnborough 6th Form College with their Christmas Carol Service in Sandhurst. The College entertained an audience of over 650 parents and supporters in the cathedral sized Chapel of the Royal Military Academy. That involved marshaling over 250 cars through the grounds of the Academy, parking them safely on the parade ground and directing the audience members through the estate to the chapel. The evening was most memorable for both the students and parents taking part in the carol service which made it a real pleasure for us to assist with the smooth running of the evening. Our thanks especially go to Yateley & District Lions Club for helping with their team of marshals.
Farnborough Lions are often seen fund raising at events throughout Rushmoor to support their work for the less fortunate in the community. During December Lions carried out a Christmas Collection in the entrance to Asda Supermarket in Farnborough. We would like to give special thanks to the management and staff in Asda for their support with helped us raise a magnificent £1246.27 for our charity work. Every penny we raise in collections and fund raising events goes to our charitable causes.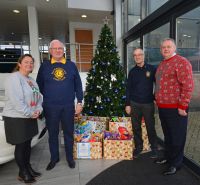 Each year Farnborough Lions particularly enjoy helping at the Parkside Special Needs Centre Christmas Party in Aldershot. Nearly 30 years ago members of Farnborough Lions helped build the centre and we have maintained our links by providing the catering for their annual Christmas party. Click here to go to our Parkside Page
Throughout the year, even in this affluent area of north east Hampshire there are families who rely on food banks to survive. At Christmas this is particularly poignant as hard working people struggle to make ends meet while most of us enjoy the degree of luxury the festive season brings. For the last 3 years the staff and customers of Think Ford in Farnborough and Guildford have donated non perishable food to the Lions Clubs in Farnborough and Guildford to distribute. This has enabled the Lions to either make up food hampers for the less fortunate or pass these invaluable donations to local foodbanks and homeless peoples refuges.
If you would like to find out more about how Farnborough Lions Clubs help in a wide variety of ways in the local community, across the south of England and worldwide click here to visit our information page.