Farnborough Lions Club helping in the community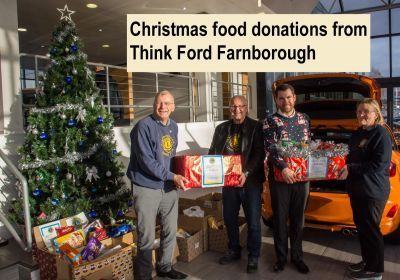 Pictured at Think Ford Showroom in Farnborough are members of Farnborough Lions with General Manager Adam Donavon at the Christmas 2019 Food Collection.
Think Ford have for a number of years held a Christmas collection amongst their staff and customers in all their dealerships in the north east Hampshire, Surrey and Berkshire areas. This year the collection amounted to a magnificent 170 kilograms of non perishable foodstuffs, tins, dried food and conserves.
With Farnborough having some of the most deprived and poverty stricken areas in the country, Farnborough Lions Club distributed the proceeds of the food collection to The Farnborough FoodBank in Christ Church Cove and the Church of the Good Shepherd Larder in Sandhill. These two foodbanks provide vital life saving work throughout the Farnborough area helping those living on or below the poverty line.
Our sincere thanks go out to the staff and and customers of Think Ford in Farnborough and their dealer group in Hampshire, Surrey and Berkshire for their outstanding generosity.
Lions Roar with Xmas fun at Parkside
For more than 30 years Farnborough Lions Club has been providing the catering and helping to run the Gateway Club Christmas Party at Parkside - Aldershot and District Learning Disability Centre. Earlier this week it was our great pleasure to help at their Christmas 2019 celebrations with the help of Aldershot Lions. Lemmy the Lion from Aldershot stole the show alongside Elvis tribute Dale Fontaine entertaining the 65 members of the Gateway Club. A great time was had by all.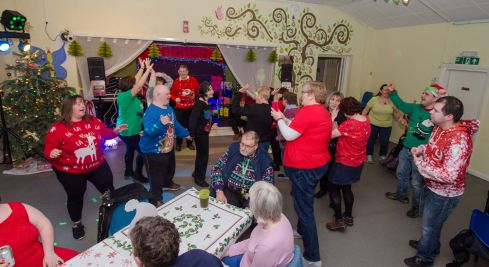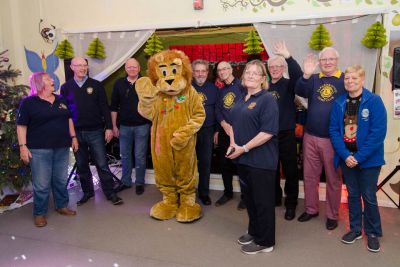 Spring 2020 Quiz Night
To support the community work in the Rushmoor area Farnborough Lions Club hold regular fund raising events. Amongst these are the twice yearly Quiz Nights which have become a firm favourite amongst the Quizzers of Rushmoor and surrounding areas.
The next Quiz Night is on
Saturday 14th March 2020
At the last Quiz Night in October we had a short presentation and video made by Farnborough College of Technology which detailed how the proceeds from Farnborough Lions Quiz Nights and other fund raising events contributed towards Lions clubs in Rushmoor and Hart Districts bought a minibus for students with special needs in the Foundation Studies Department.
Click here to see more....

For more details of the next Quiz Night and to download the entry form click on the poster below