Lebanon Disaster Appeal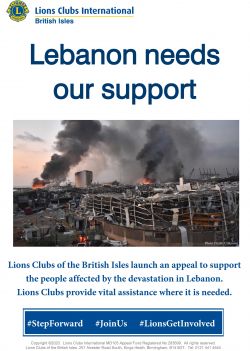 We have all been shocked and distressed to see pictures of the enormous explosion in Beirut with the resulting destruction with the misery and suffering this has brought to many thousands of people.
We can help those caught in this humanitarian disaster to bring immediate aide and start to rebuild the food supply infrastructure destroyed in the explosion for the whole of Lebanon.
Farnborough Lions Club is part of Lions Clubs International with Lions members on the ground worldwide to help others. We are joining together with Lions Clubs throughout the British Isles to raise money to give to Lions Clubs working in Beirut to help those who are left injured, homeless and hungry by this catastrophe.
While it may be difficult for many of us to consider helping those far away while we ourselves are suffering during the pandemic please consider the many thousands of people of Beirut who have literally lost everything as their city was flattened by the explosion together with the inevitable ongoing crisis with hunger throughout the country as their food supplies dry up.
Every penny raised by Lions Clubs during this appeal will be donated to the Lebanon Disaster Appeal. No overheads are ever taken and we can send funds directly to those helping in Beirut through Lions Clubs International.
Please help us by donating through our Just Giving page. Every little will help this destroyed city. Please click and donate here:

Many thanks.