Farnborough Quiz Night
Farnborough Classic Motor
Vehicle Show has been cancelled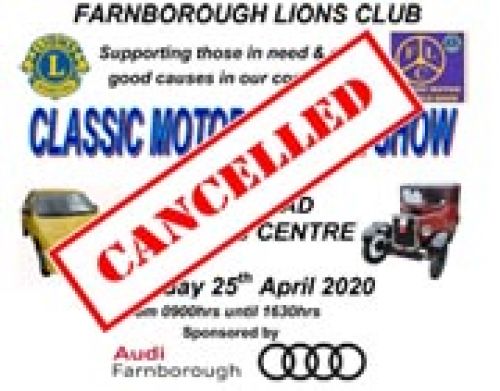 The Spring Quiz Night Night for Farnborough Lions was a very different event from the normal twice yearly competition when teams gather to from across the Rushmoor and Hart areas to answer answer questions on a wide variety of topics.
The Lions and their helpers turned up early armed with antiseptic spray and hand sanitiser kits so the table surfaces, door handles and areas which could be handled by the participants were cleansed to remove the chance of possible contamination. With concerns about Covid-19 the tally of quiz night teams fell from the 26 booked the previous week to just 13 on the night. That included 3 first time teams entitled 'Lost in Lightwater', 'Fabulous Fleet FLOGS' and 'There But Not There'.
That said, the evening was excellent with everyone enjoying answering question topics varying between 'Shoes', 'Musicals' and 'London' to 'Romantic Movies', 'Famous Twins', 'Lovers' and 'a Load of Balls'. The raffle was particularly popular making a magnificent £205. An excellent total thanks to the generous support of our loyal quiz night teams.
At the end of the evening a long term Farnborough Quiz Night team 'Area 51' were victorious with 78 points.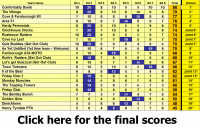 1st time team 'Lost in Lightwater' a close second, just 2 points behind and joint third were 'Rushmoor Riders and 'Rushmoor
Rejects' with 74 points. For a full rundown of how the teams did, click the scoreboard on the right.
Although quieter than normal due to understandable concern over coronavirus the evening fundraiser made a magnificent £543 for Farnborough Lions charity funds. Our thanks go out to our loyal supporters and to those teams who donated to our charity funds despite not being able to attend.