Lions Funfest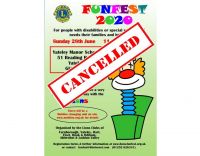 Due to the Covid-19 Virus situation the 2020 event scheduled for 28th June has been cancelled. While this is disappointing for the participants and Lions alike we look forward to welcoming our friends to take part in this event in June 2021.
Yateley Manor School, Yateley.
A spectacular day of fun for over 700 for people with disabilities or special needs, their families and carers from throughout the south of England was held in Yateley at the end of June 2019.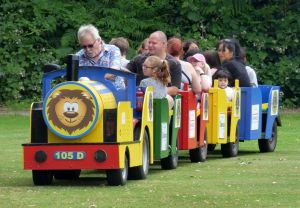 Steve Boast
The annual Funfest has been run free of charge for more than 3 decades by the Lions Clubs of Farnborough, Aldershot , Fleet, Hart, Hook & Odiham, Yateley, Loddon Valley and Maidenhead.

Attractions at this year's event included bungee trampoline, bouncy castles, train rides, obstacle course, a helter-skelter, a giant football target and circus skills together with piggy racing, coconut shy, water pistols, crossbow games and face painting. Music was provided by Elvis impersonator Dave Hurrell and Rodney Dell.
This event provides games and attractions specifically designed to get all the guests fully involved in the fun whatever their degree of disability. A team of over 100 Lions helped the disabled participants on and off the rides, taking the time to show how to aim and fire fun crossbows and assisting those with limited strength and mobility with the throwing games throughout the day.
Also in attendance to give their support was the Mayor of Rushmoor Cllr. Sue Carter, the Chairman of Hart District Council Cllr. Sharyn Wheale and the Mayor of Yateley Cllr. Jerry Crisp.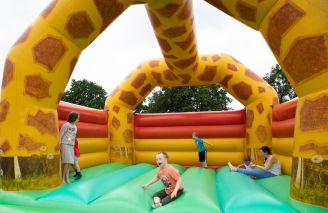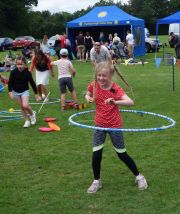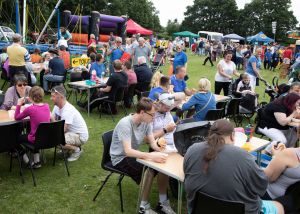 Rita Daubeney
The aim of the Lions Clubs together in this area is to run Funfest to give as many people with disabilities as possible with their families and carers a great day out. A legacy of success which will continue many years into the future compliments of the Lions Clubs in the local community.
Click below to watch the video of the 2016 event: