Prostate Cancer Awareness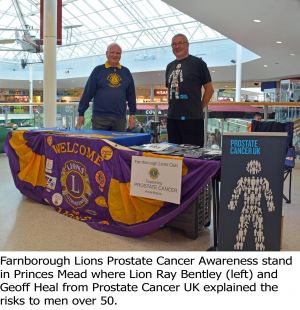 It is a startling fact that every hour in the UK a man dies from prostate cancer and 40,000 new cases are diagnosed every year.
That relates to one in every 8 men in this country could get prostrate cancer and if you are black that could increase to one on 4.
Likewise, if your father or brother has had it you are two and a half times more likely to get it.

Being overweight increases this risk even further.
Therefore, if you are a man over 50 and think you may be at risk of prostate cancer, what do you do next?

You can read the Prostate Cancer UK booklet which can be downloaded free from:
prostatecanceruk.org/publications you can text NURSE to 70004 or you can email or chat online with a nurse at: prostatecanceruk.org/getsupport
Specialist Nurses are also available on 0800 074 8383
Lions Clubs Fleet, Windsor, Reading and Maidenhead also carry out regular free blood tests

for prostate cancer so keep an eye open for these sessions. These blood tests have saved the
lives of dozens of men by giving them the time to have their prostate cancer successfully treated.