Lions work together to supply refurbished computers for charity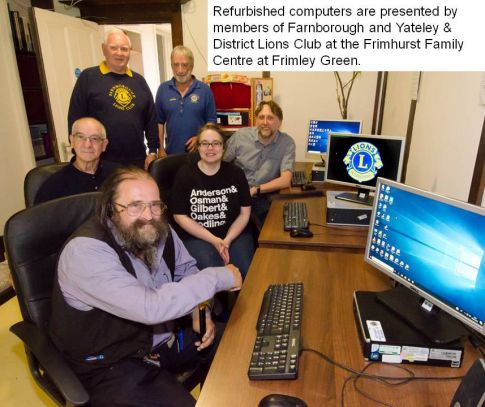 Farnborough Lions joined with Yateley & District Lions Club members at the Frimhurst Family House in Frimley Green recently at the presentation and installation of 4 refurbished desktop computers. The Lions Clubs in Farnborough, Fleet, Hart, Aldershot, Hook & Odiham and Yateley have banded together to gather computers which are being replaced in offices and schools to refurbish and update them before donating them to worthy causes within our communities.
Four such machines were donated to the Frimhurst Family House which is run by ATD Fourth World which offers vulnerable families respite from poverty, discrimination and social exclusion by organising short break holidays in their Victorian manor house. Set in 9 acres of grounds beside the Basingstoke Canal their facilties include 4 self contained flats, a library, games room, art studio, nursery, community garden, professional kitchen, outdoor playgrounds and a computer room. These enable adults, children and young people living below the poverty line the chance to enjoy family holidays, take part in social events, explore their creativity and to find their self confidence.
Farnborough Lion Ray Bentley said: "We are very excited to be part of the latest round of the Lions Zone 2E IT refurbishment programme by giving 4 computers to such a worthwhile charity. Using the expertise and financial support within our local Lions Clubs we are able to upgrade the donated computers, install licensed Windows 10 Operating Systems together with word processing software etc. to give local charities fully operating computer systems".
Pictured above are Farnborough Lions Dave Brown and Ray Bentley and Yateley Lions President Simon Rankin with Eric Knibbs, Shaeda and Tom Croft from the Frimhurst Family House who are seated.
Find out more how you can donate your unwanted computers to charitable causes through the Lions Click Here