Christmas 2019 Food Collection
Farnborough Lions distribute seasonal happiness from Think Ford
Pictured at the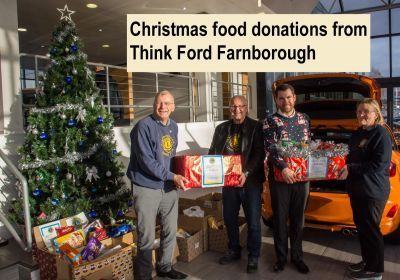 Think Ford Showroom in Farnborough at the 2019 Food Collection are members of Farnborough Lions Club with Adam Donavon - Think Ford General Manager.
Think Ford have for a number of years held a Christmas collection amongst their staff and customers in all their dealerships in the north east Hampshire, Surrey and Berkshire areas. This year the collection amounted to a magnificent 170 kilograms of non perishable foodstuffs, tins, dried food and conserves.
With Farnborough having some of the most deprived and poverty stricken areas in the country, Farnborough Lions Club distributed the proceeds of the food collection to The Farnborough FoodBank in Christ Church Cove and the Church of the Good Shepherd Larder in Sandhill. These two foodbanks provide vital life saving work throughout the Farnborough area helping those living on or below the poverty line.
Our sincere thanks go out to the staff and and customers of Think Ford in Farnborough and their dealer group in Hampshire, Surrey and Berkshire for their outstanding generosity.
If you could help either of these foodbanks with donations of non perishable food items, or tinned goods, please contact them direct:
The Church of the Good Shepherd email community@goodshepherdchurch.org.uk or phone 07845 175158
Farnborough Food Bank email info@farnborough.foodbank.org.uk or phone 07954 105279