Fine Cuisine with the Lions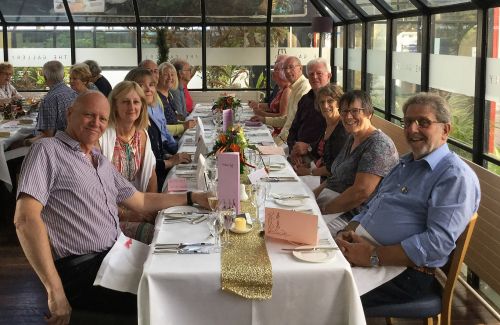 Farnborough Lions and their partners are pictured above in The Gallery Restaurant relaxing before an evening of fine cuisine thanks to Farnborough College of Technology.
In June each year Farnborough College of Technology opens it's doors to the public when the final chef and hospitality assignments are served in a Gala Dinner Night.
Wow...what a night. The Lions and other guests from the Farnborough area enjoyed the most sublime of dishes. The talent of Farnborough College of Technology students did the College proud and we as Lions are pleased to be able to support them by attending their Gala Diner Night.
Plans are currently under way to repeat this outing at Christmas when the Lions and their partners will sample fine Festive Cuisine.
To find out more about how Farnborough Lions enjoy social occasions such as this as well as helping those less fortunate in the community call 0845 833 4345 or 01252 665804