The Lions Bowling Challenge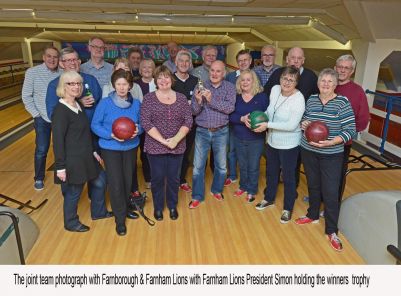 Every year Farnborough Lions Club get together with Farnham Lions Club for a friendly 10 pin bowling challenge at a local bowling alley. The evening comprised of the friendly bowling challenge for the 'Farnborough Lions Challenge Trophy', a team competition between both clubs with the best individual player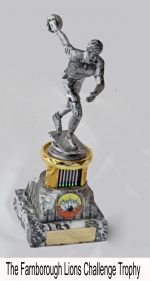 s being recognised.
Last year Farnborough Lions triumphed over the larger Farnham team. With all to play for both teams were able to practice for up to an hour before a delicious meal was served when the teams were able to socialise before the competition proper started.
Once play commenced the competition was evenly matched for a while before the skill of the Farnham Lions Team shone through beating Farnborough fairly and squarely to take back the trophy from last year's winners.
Not put off, Farnborough Lions will be back to challenge Farnham in the friendliest of competitions next year.
To view the gallery of pictures Click Here