Farnborough Dentaid Contribution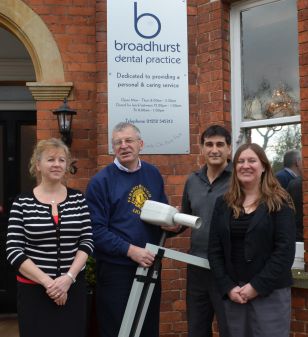 Lions clubs throughout the United Kingdom work in partnership with Dentaid to administer the collection of dental equipment ranging from small instruments through to entire dental surgeries for onward delivery to the Dentaid workshops in Salisbury where they are refirbished before being shipped out to countries such as Bangladesh, Uganda, Malawi, Cameroon and Cambodia.
Poor dental health has a devastating effect on many thousands of people in developing countries leading to the misery of constant pain, risk of serious infection and even the danger of death for those who go untreated.

Recently Farnborough Lions received a call from the Lions District Dentaid Co-ordinator to say that The Broadhurst Dental Practice in Farnborough had a dental X-Ray machine with the film development machinery to donate to Dentaid. The Dentist Dr Majid Farschie said that for years he has been donating dental instruments to Dentaid by taking them to dental equipment exhibitions where there is always a Dentaid stand. The X-Ray machine is too big to donate in this way so he contacted Dentaid and this is where the Lions partnership came in.

It is particularly rewarding for Farnborough Lions to be able to bring together our welfare work locally with that of charity projects overseas by assisting with recycling valuable dental equipment sourced locally knowing that within weeks it will be delivered, installed and used to improve the quality of life for many people in the developing world.

The picture above was taken when when Lion Richard Keeley collected the X-Ray machine and film developing machine from Broadhurst Surgery, with Dr Farschie, his Practice Nurse Lucy Taylor and Practice Manager Sharon Welsh. If you would like to find out more about Dentaid Click here.