Farnborough Lions Spring 2019 Quiz Night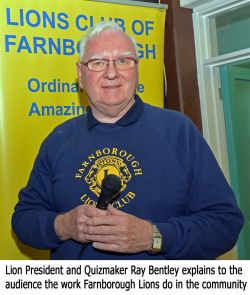 Farnborough Lions held their first quiz night of 2019 in Mid March when 22 teams took part in a fun evening. Question topics varied between Just 2 letters, Actors, Firsts, Boardgames, Famous First Lines, Pick & Mix and a kind of magic.
The Lions hold these twice yearly quiz nights to raise funds to be used in the community with good causes such as the Henry Tyndale School PTA special needs school, Rushmoor & Surrey Heath Community First Responders supplying 2 extensive CFR first aid kits and the Mayfield Medical Centre to provide a digital continuous blood pressure monitor.
At half time the record breaking raffle was drawn with many good quality prizes being won by the worthy quiz night participants.
Lion President Ray Bentley said "we are particularly grateful to The Co-operative Funeralcare Farnborough who generously sponsored this event to help make a magnificent £879 profit".
At the end of a very enjoyable evening the quiz night totals were totted up with the team 'The Vikings' winning by a clear margin, 'The Villagers' came second 'Six of the Best' came a close third.

For a full rundown of the scores and placing's click on the final scores icon below to the right.

The whole evening made an outstanding total of £879 profit which Farnborough Lions will use to help good community causes in the local area. We would like to thank all the quiz night participants for their generous support.
Date for the diary...... the next Farnborough Lions Club Quiz Night is 19th October 2019