Farnborough Lions March 2022 Special Appeal Quiz Night
The first Farnborough Quiz Night of 2022 was a special record breaker for a number of reasons. In response to the appalling situation in Ukraine the Lions turned over their usual spring community fundraiser to the Lions Clubs International Foundation (LCIF) Ukraine Appeal.

LCIF is an international fund contributed to by Lions Clubs worldwide to help with disaster relief and to aid global causes such as blindness, hunger and homelessness. Lions in the neighbouring countries are there to support the millions refugees and displaced people fleeing their homes, by providing immediate relief to those who are struggling to meet their most basic needs.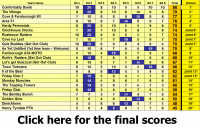 The people of Farnborough and surrounding areas attending the Quiz Night responded with tremendous generosity with takings on the night of £905. This included a record breaking £420 made on the raffle. Many of the participants wanting to purchase yellow and blue raffle tickets in support of the Ukrainian people.

The 18 teams taking part answered questions on diverse subjects such as Inventors and Inventions, Clothing, Bond Themes, Repeating Names, The Human Body, Cheese & Wine and Women in History.
Never before in Farnborough Quiz Night history has the result been so close. Overall winners were 'Area 51' with a score of 79 points. Following them came 3 teams with scores of 75 points each. The only way to split these identical scores was to refer to the tie break decider round answers. All the teams completed a fun question round at half time entitled 'Doctor Doctor, Fictional Doctors'. The scores from these gave 2nd place to 'The Vikings', 3rd to 'My Little Ponies of the Apocalypse' and 4th to 'Rushmoor Rotary' The 'Ever Hopefuls' came in 5th. For a full rundown of the scores click the final scores icon above.
We would like to thank the people of Farnborough for their outstanding generosity in helping us raise nearly £1000 to the Lions Clubs International Ukraine Appeal. Lions Club members on the ground in the countries bordering Ukraine will use these funds to give food, comfort and shelter to the millions of refugees.