District Governors visit to Farnborough Lions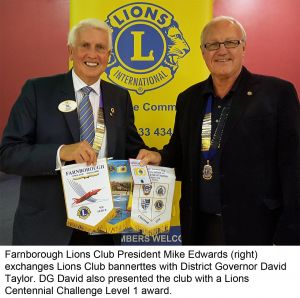 Farnborough Lions were delighted to welcome District Governor David Taylor to their September meeting. The District Governor is the leader of the management team for 60 Lions Clubs in the south of England. During the meeting DG David discussed the future format of Lions Districts in the UK as well as advising on successful Lions projects throughout the District.
He awarded Farnborough Lions with the level 1 Centennial Award. for their work with young people over the last 2 years running the Farnborough School Choir Competition. The Centennial Award is to recognise the work the club has done in the last year towards Lions International worldwide aim to help 100 million people across the globe during 2016 - the hundred year anniversary of Lions Clubs International formation in Chicago.
Individual members of the club were also recognised during District Governor David's visit. He presented Anne Stewardson with a 10 year membership award and Richard Keeley a 30 year membership chevron.
He also presented Ray Bentley with a Centenary Membership Award for introducing new members to Farnborough Lions during the 100th anniversary year.
Would you like to share in the success of Farnborough Lions Club while helping others in the Community by joining us? Find out more about Farnborough Lions contact us by clicking here or phoning 0845 833 4345.